https://www.racing.com/news/2022-06-01/news-industry-a-new-crypto-era-in-horse-ownership
Racing.com featured the above story on its website on Wednesday. about the so-called revolutionary crypto currency racehorse ownership opportunity called CRYPTOJOCK being offered by an electrician from Ipswich named Matai Noble.
A real racing media outlet would have had a little bit of a closer look at the scam/scheme before they dived in and started promoting it.
We have, and here is what we have found.
Cryptojock is owned by a company named Cryptojock Pty Ltd.
It was formed and registered on Monday.
The owner of the company is not a man named Matai Noble.
He is not an electrician either, he is a licensed electrical mechanic, which is close but not the same.
Cryptojock is actually owned by a chap named Gavin Paul June.
Gavin Paul June is 28 years old, was born in Wellington, New Zealand, and lives in a rented house at Springfield Lakes.
He is not an electrician of any sorts.
Not unless he is Matai Noble under another name, a possibility that one would be rather silly to discount.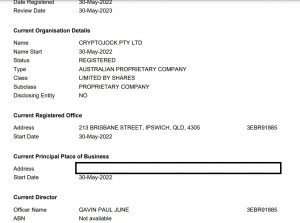 The registered office of the company is an accountancy firm located between a pub and a sex shop.
Perhaps its apt, for anyone who buys into the scheme/scam is obviously desperate to be screwed.

The spiel being spruiked by racing.com and the mysterious Matai Noble is not quite true.
They both say that buying into Cryptojock will entitle the purchaser to all the benefits of owning a racehorse without the hassle.
What particular hassle they are talking about is not described, but we imagine that these hassles include:
1 – Dealing with a reputable registered racehorse syndicator like Proven Thoroughbreds
Cryptojock is not a registered syndicator.
2 – Dealing with a registered unit trust provider like miStables 
Cryptojock is not registered as a unit trust promoter.
3 – Dealing with an ASIC registered promoter
Cryptojock is not an ASIC registered promoter
4 – Dealing with the holder of an Australian Financial Services License (AFSL)
Cryptojock does not hold such a license
5 – Receiving a product disclosure statement to consider
Cryptojock offers none.
6 – Buying into a horse that actually exists
Cryptojock has no actual horse to offer buyers of its tokens.
7 – Breaking the law in a multitude of different ways
Finally, something that Cryptojock are doing.
This company is, in essence and form, operating illegally.
If the authorities choose to have a wee look at it, massive fines and bans are sure to follow.
Of course what that will means is that innocents who have bought into the 'currency' and the 'horse' do their dough cold.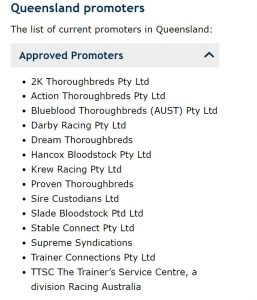 The mysterious Matai Noble and his unofficial PR company racing.com say that the buyers – i.e. suckers – who fall for the sales pitch and fork out money to be part of the scheme/scam will pay 'Taxes'.
These taxes they sat are six percent.
To quote mysterious Matai – as racing.com have without question – four per cent will go into a kitty to fund horse ownership, one per cent will go to donations to charity, one per cent will go to a weekly bet.
There are a number of huge problems with this proposition.
One is that only Governments can levy taxes.
Two is that only four percent of the buy-in is actually going toward buying the unidentified, at present non-existent horse, meaning that 96% of every dollar a prospective buyer spends is not.
Three is that the 'taxes' Cryptojock are levying on people who buy in to their horse scheme/scam are not 6% at all.
The actual 'tax' is 13%, broken down as follows:
4% – horse purchase
4% – to increase floor and stabilize market, whatever that means in this context
3% – marketing
1% – weekly bet
1% – donations to ex-racehorses in need, whatever that actually means as well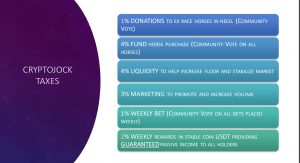 Problem five is that placing bets for other people in the name of one individual is illegal under State and Federal Anti-Terrorism and Money Laundering laws.
The sixth problem is only one if you are:
(a) not Matai Noble or Gavin Paul June, or
(b) a person who believes in the ASIC required legal and ethical principle of full disclosure of Directors personal interests and benefits, or
(c) a punter who likes to get top prices on your bets, or
(d) someone who doesn't like being treated like an idiot and being taken for a fool.
Why?
Because Matai Noble/Gavin Paul June is an affiliate of the bookmaker Unibet, who is promoted on Cryptojock's website cryptock.net as a partner in the endeavour.
An affiliate is a person who brings new punters into a bookmaker's business, and gets a cut of up to 25% on all total monthly losses on bets made by the punter.
The said affiliate also gets introduction fees, meaning that they are paid a set amount per new customer that they bring in to the bookie.
Guess what bookie all the 1% weekly bets are going to be placed with?
Did we hear you say Unibet?
Give yourself a gold star.
Racing.com and the writer of this ill-informed promotion for Cryptojock won't be getting one, that's for sure.

Wonder if Tim Yeatman is going to be the celebrity ambassador?
Never fear though eager beavers who want to close their eyes to reality, avoid 'the hassle', and dive in into the C-Jock despite the absolute certainty you will come out at the other end with nothing, for there is an upside.
You will get paid a guaranteed 2% weekly reward, each and every week.
2% of what?
We don't know, and racing.com and Cryptojock aren't telling you.
It can't be 2% of your investment, because that would mean that you are earning 104% annual returns, which is near impossible. So what is it 2% of then?
Fantasy.
You are getting 2% of a dream.
Paid in Cryptojock tokens, worth absolutely nothing.
And guess what's even better?
You pay the 2% yourself, and they just give it back to you?
How bloody good is that hey?
Almost as good as the investigative journalism skills of 'Token' Tim Yeatman who wrote the bullshit story spruiking the Jock.
Buyer beware.
Of Cryptojock and promotional sales pitches posing as stories on racing.com.

Click to access CryptojockWPofficial.pdf
Editor's note – We wonder if the Jock's proposed trainer of the non-existent horse Gai Waterhouse will be getting paid in Cryptojock tokens? Somehow I very much doubt it.