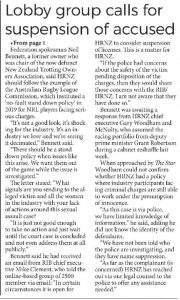 The NZ Harness Racing Owners Federation (NZHROF) has quite properly raised concerns about two licensed participants being allowed to continue to work in the industry at a time that they are separately and jointly facing charges of indecent (sexual) assault against a victim who most the industry are aware is also an industry participant.
NHROF's position is the two men should be stood down from the sport on a 'no fault' basis until the charges are heard and determined, in much the same way that NRL players are when charged with offences of this nature.
I totally agree with them, but that is not the issue for today.
The issue I want to discuss is the dishonesty of the peak body HRNZ, and its attempt to feign ignorance of the matters, and the complicity of the regulator the Racing Integrity Board (RIB) in allowing them to do so.
HRNZ CEO Gary Woodham publicly claims that he does not know the identity of the two defendants in this sexual assault case.
That is absolutely untrue.
Woodham is lying through his teeth.
I live in Port Douglas, Australia, thousands of miles from the scene of the crime, and I know exactly who the defendants are. So it is utterly inconceivable that the CEO of Harness Racing New Zealand does not share the same knowledge of an alleged crime that happened in his home town. It fact it is simply impossible, and totally untrue.
This man who is supposed to be the leader of our sport is misleading everyone in it, and by doing so he is spitting all over harness racing, and spitting upon everyone in it.
Gary Woodham knows who the accused are, a great many of us do. For the peak body in charge of the sport and it's chief o pretend otherwise is shamefully dishonest, and just plain wrong.
Mike Clement, the man in charge of the RIB, has questions to answer too.
"If the police had concerns about the safety of the victim pending disposition of the charges, then they would share those concerns with the RIB/HRNZ" Clement says. "I am not aware that they have done so".
What a thing to say. It's preposterous.
How would Mike Clement know if the police had shared any concerns with HRNZ?
Has he asked the police?
Did he ask HRNZ?
When did Clement ask them?
Who did he ask?
What did they tell him?
These are largely rhetorical questions I suspect, for the suspicion is that he has not asked them at all, although that cannot be verified because Mr Clement has not responded to the calls and messages that we have left him seeking to clarify these matters. What appears obvious to this author is though that as a former Deputy Commissioner of NZ Police Mike Clement knows full well that the police cannot and must not share information about the case with him. Any concerns that the police have for the victim's safety must be raised directly with the court, not with him or the RIB. That being the case, what Clement is saying about the matters appears to be misleading.
Clement statement that he is not aware that the police have done so is not perhaps misleading, but is certainly of equally great concern. This man's job is to know such things, not simply to say that he is not aware of them. He either knows whether the police have raised safety concerns about the victim with HRNZ and with his own organisation, he doesn't. If it is the latter, then why doesn't he know these things, because he should.
Either way, it is an utter abrogation of what most regard as his duty to simply claim that because the police have not – or may not have, or may not be allowed to – raise concerns with the RIB or HRNZ, then the plight of the alleged victims should be disregarded, or not considered at all. It is an affront to decency.
It is well known that the safety of victims of alleged (and actual) sexual assault it not simply a matter of physical security. The trauma that these victims of crime suffer is far, far deeper than that, and in many – if not most – cases of this type, psychological harm is the major issue that besets indecent assault victims. The first issue that victims face during the period between the making of their police complaint is being confronted by the alleged offender while the judicial process is wending its slow and often torturous course.
Put yourself in the complainants shoes here.
This person is a harness racing industry participant or associate. This is widely known, despite the suppression orders in place.
The alleged offenders are harness racing participants, a fact that has been reported in the national media.
That the events occurred during NZ Cup week has also been widely reported, as have the locations of the alleged assaults, at least one of which is said to have occurred on a HRNZ licensed premises.
The two men (if that is a word that can be used to properly describe them) are – as a result of the inactions of HRNZ and the RIB – permitted to continue to work under the terms of their racing licenses, which enables them to freely train, race, socialise and do anything else they wish to on licensed racing premised where it can be reasonably expected the victim may be present, or should have the right to me whenever they choose, and wherever they wish.
But how can the complainant do that, knowing that it is certain that they will encounter the men that they have accused of indecently assaulting them? How can they do that without fearing for their safety, or being traumatised?
It is not possible is it?
So what the victim must do to protect themselves, because no-one else will, is to remove themselves from these areas of potential danger or harm. In other words, not to participate in the sport that prior to the assault they were involved in and enjoyed?
Let me put it even more bluntly.
The perpetrator gets to go about their life and their business as if nothing at all had happened.
The victim has to leave the sport.
Can Mike Clement not see what is wrong with this picture, or understand that it his responsibility – moral and ethical, at the very least – to make sure that this doesn't happen?
Gary Woodham too.
Yet they do nothing, and make excuses for it, and the poor victim is left all alone, and victimised all over again.
I honestly thought that Mike Clement was a better man that this. Maybe he is, who knows?
But what her really is above all is a risk averse bureaucrat, an able public servant but not a leader.
A leader would not allow this to happen.
A leader would be like Peter V'Landys.
A leader would find a way to balance the rights of all parties, while ensuring at all times that when rights compete, the complainant's are put first, not in a way that unduly favours them, but rather in way that doesn't favour the perp.
I'm hugely disappointed in Clement. He was the second top police officer in New Zealand. Surely he knows, this and can see how his response to the awful situation is wrong. To the NZHROF it is as clear as the brightest dawn. It is to me too, and to every reader that I have spoken to about the issue.
If Clement can't it and doesn't, then it's not just harness racing in New Zealand that has huge problems.
It's the entire industry, and the whole damn show.
Ki te kahore he whakakitenga ka ngaro te iwi.
Without foresight or vision, the people will be lost.
I think we are in New Zealand racing right now.
I really do.