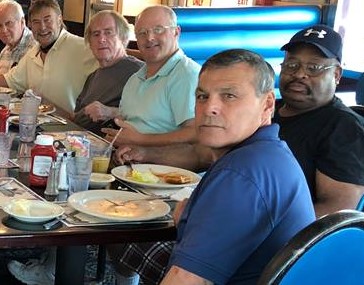 "I was born and raised in Dover NJ, I started taking care of Horses in 1975 at Freehold Raceway. My career in the horse business might have been very short if I stayed there but  Bobby Bresnahan asked me to go Yonkers to rub horses there. That is where the business became a passion. From the people there to the horses, the racing was the best there ever was. I cherish the many conversations  I had with some of the best in the business, from Patterson Sr to Benny Webster it was this awakening that has kept me going till today. I still tell people about that first paddock I did in Yonkers, The dead silence of the crowd at the start of the race, and then listening to a low rumble starting at the 5/8's pole which turn's into a deafening roar from the top of the stretch to the finish, it was jusy Amazing."
For every complex problem there is an answer that is simple, clear and wrong!​
​By, Charles Martino
   Those words were uttered by H L Mencken in the first half of the 20th century, and describe man's futile search for easy solutions.  Those easy answers more often than not  are accompanied by some catchy phrases which also over simplifies a complex problem and helps sell bad ideas.  That dilemma has plagued harness racing for years as we've chased every  simple answer given with no success.
 As we try to emerge from the covid-19 emergency we must ask ourselves do we follow this trend or is it time to face the hard questions and a reality we may not like. With covid we see just how fast a real emergency can stress a State's finances, that alone should cause pause. Because it is by the grace of State laws that we have the purse structure we do, and that money could be seen by a  State as revenue in desperate times
   There is only one problem that needs to be solved and that is Growth. Simple on the surface but like an onion with layers of problems that need to be addressed before we will ever see some success. Any success will be hindered by Special Interest, those who have manipulated the business to work for them the way it is now. More likely if we started to access accountability for our current situation we would see it catering to those Special Interest that lead to this point.
       I heard all the excuses why Harness racing is struggling, but again that's what they are excuses. No we will never have 14,000 people a week night at the Meadowlands or Yonkers again, but the pathetic number that go now can be much improved. In an ever more divided world working together is a dying art, and we are a microcosm that reflects that world.
       We can not measure growth by aggregate numbers, which more often hide the underlying problems. If one market does well while others are struggling, we need to focus on the struggling market. If we don't we  just  repeat the mistake we already made in 1976 when the Meadowlands came on line. For those old enough to remember we once had several  very popular venues. But it was the Meadowlands at that time that took all the oxygen out of the room.
  It wouldn't take long for industry leaders to latch on to the Meadowlands as their focal point, everybody loves a winner. But by not focusing on what was going on around the industry they failed to recognize the problems the industry was facing.  Names like Brandywine Liberty Bell, Sportsman Park, Foxborough, Freestate  and Roosevelt were all in decline, great venues who's loss is still felt today
  As the  handle and attendance numbers at the Meadowlands wooed  the industry into a false sense of security, we limited our future growth. By hiding our heads in the sand and not facing problems we lost sight of the big picture, Growth. How are you going to  grow when The Meadowlands covers one metropolitan area and those other venues lost covered 6 separate states? By ignoring the real problems the industry faced at that time we shrunk all the future potential.
 No one thing is going to change the industry into Growth, and by doing just one thing leaders are just making it look like they are trying. That is why change has to be comprehensive. If you believe that 15-20 minutes between races is a problem, then imagine how much more of a problem it becomes when the racing stinks! In a marriage if one partner loses faith in the other it usually ends in divorce. It is obvious our fans have lost faith in us.​​
For the record we fail every time  the favorite wins more than 25% of a race card. When  exactas pay $10.00 and sit 1-2 around the track, we failed. We fail when Super Trainers win races at a ridiculous percentage and when drugs have become so prominent that owners don't think trainers without them can compete. We fail every time one of our old war horses are in a Kill pen begging for help, and we fail when we think it's other people's responsibility to save us!
In 2012 I wrote on a harness racing blog about a trainer who went to bed stupid and woke up a genious. That post got answered by plenty of  naysayers, yet that trainer was one of those just recently indicted. For 8 years honest people had to race against him hoping to get less of the purse because  he was in the race. I didn't write that post because I was guessing, I wrote it because it was what the business has become. Likewise in another post about cheats I got a tongue lashing from an owner who said I am just an envious jealous person. Yet with these indictments it was one of his trainers that were listed. There are now  many owners and trainers jumping in claiming they only want clean drug free racing. But what do you expect them to say?
Once upon a time this business grew, it had leaders that understood the businesses health is far greater than any one individual's group needs. Till we get back to that point we will never grow, and thus we fail one more time.